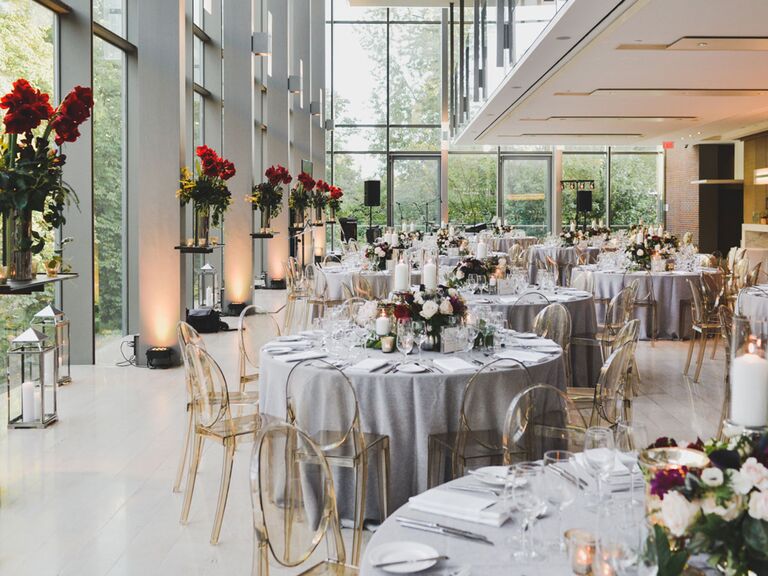 Alixandra Gould Photography
Tables play a large role in your wedding
Besides the 
reception venue
itself, your tables will play a large role in dictating the atmosphere of your celebration. Lucky for you, party
rental companies
offer a variety of table shapes and sizes so you can opt for a set that suits your space. Working with a large, formal ballroom with high ceilings and large windows? Long banquet tables might be exactly what you need to add warmth and dimension. Hoping to create a cozy dinner-party vibe? Choose round tables in various sizes for an immediately more intimate setting. Read on for how to decorate and make the most of each reception table variety.
Rachel Red Photography

Lacie Hansen Photography

No one says you need to drench your tables in bright colour if you don't want to—there are other ways to jazz up a traditional round table and neutral colour scheme. If you're going for a clean and classic look, bring in some texture through patterns like damask, florals or stripes in a crisp ivory or eggshell.


Square and Rectangular Tables

Gayle Brooker

1. Add Formality
Just as you don't want to overcrowd your tabletops, the reverse isn't always great either: Exposing surfaces can set a casual tone if you're not careful. The main culprit? A too-short tablecloth. Drape floor-length linens over your square tables to instantly dress up your space.
2. Use an Even Number of Chairs
Squares are solid shapes, but they need some symmetry, so place an even number of chairs on all sides. Otherwise you'll be left with awkward, lopsided table arrangements
3. Round Things Out
Incorporate round accents to soften the edges. Your options are endless here: Place votives and round chargers on the tables—consider wood slabs and coasters for a rustic theme or smooth marble trays for a cool, contemporary feel—and suspend circular or cylindrical lighting from the ceiling.